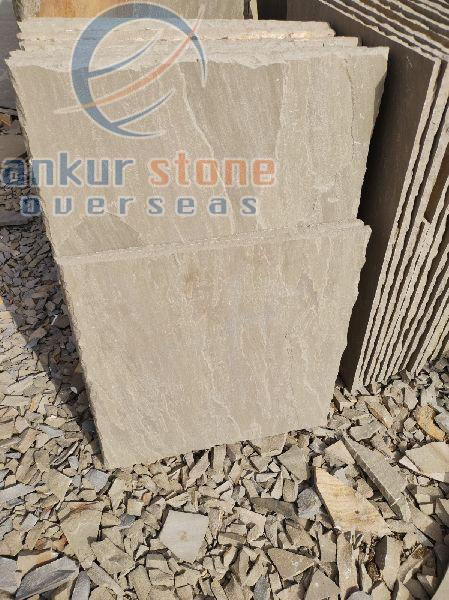 Sandstone is one of the most stunning natural stones available. Because of its elegance and earthy tones, most homeowners choose this natural flooring material since it has distinct colors and styles. This multicolored stone comes in a variety of earthy hues such as reds, browns, gold, and gold, and tans that are ideal for a variety of architectural applications.
One leading design of sandstones in India is Raj Green Sandstone. Raj Green sandstone paving slabs have a unique, individual texture that complements each other perfectly, allowing you to achieve a natural look.
What is Raj Green Sandstone?
Raj Green Sandstone is light green sandstone with hints of buff, brown, and plum tones. With its lightly riven surface, Raj green sandstone is similar to traditional York stone and is suitable for traditional landscape designs. Because of its dense structure, this sandstone is both durable and quick to dry. It is made up of quartz grains of consistent size and other minerals of similar size and is therefore smooth.
Raj Green sandstone paving tiles and slabs are frost-resistant. They'll weather to a natural look, adding to the beauty of your path, patio, or driveway. Raj Green Sandstone can be carved into various shapes or chiseled and dressed into a smooth surface. It's widely used for roofing and flooring stone, as well as for paving and paneling.
Specifications
The Raj Green Sandstones are available in a wide array of sizes such as 60 cm x 90 cm, 60 cm x 60 cm, 60 cm x 29 cm, and 29 cm x 29 cm. These Sandstone tiles are rectangular with a thickness of 15 to 50mm. The color range of Raj Green Sandstone is grey, creamy, light brown, and light yellow. They are suitable for floorings, roofing, and even for walls.
Because of its strength, durability, and beauty, Raj Green Sandstone is a preferred stone. Raj Green sandstone paving slabs are hand-dressed and extremely hard-wearing and durable, making them ideal for creating a seamless transition from home to garden.
Benefits of Using Raj Green Sandstone
Given below are some of the benefits of using Raj Green Sandstone:
• Natural beauty - Raj Green Sandstone is a type of rock that is found in nature. While there are many artificial flooring materials on the market today, nothing compares to the incredible beauty, classiness, and artistry of natural stones.
• Durability - it is a naturally occurring element that is quarried from mountain cores and has rock-like strength. This means that if you choose Raj Green Sandstone tiles for your flooring, it will last for many years.
• Uniqueness - Each piece of Raj Green Sandstone has distinct hues, colors, and patterns. This means that the design you buy is one-of-a-kind and unlikely to be repeated. Therefore, this Sandstone flooring tile in your home is a random cog in nature's massive work of art that spans the globe.
• Eco-friendly - Raj Green Sandstone is a sustainable, natural, and ultimately biodegradable occurring material. It has no negative impact on Mother Nature.
• Simple to Replace - there is a time when the substrate develops a gap or cracks as a result of dropping heavy objects. Fortunately, if this occurs, you can easily replace the Raj Green Sandstone with greater ease.
Raj Green Sandstone has great reliability, resilience, and glamour due to which it has become widely preferred Sandstone all over the world.