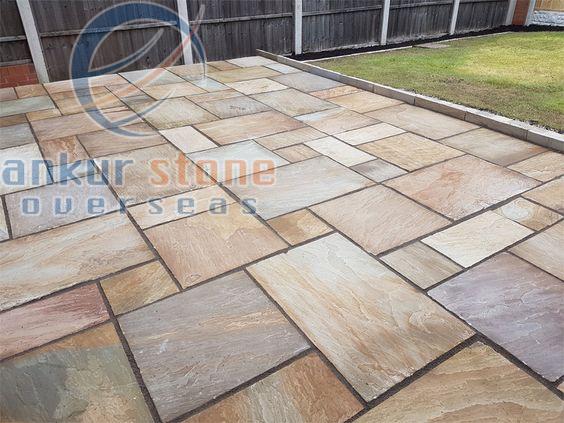 Raj Green is the one type of sandstone with a blend of green tones and hinted with brown, plum, and buff colours. It is the same as traditional yorkstone for designing traditional landscapes with a riven surface.
The concentrated structure and healthy finish make sandstone the sustainable choice with quick-drying and tremendous durability. It is made of uniform quartz grains, minerals for a rounded and smooth outlook.
Unique Features of Raj Green Sandstone:
Raj Green Sandstone is suitable for cold as well as the extreme climate in Europe. It paves the pathways with its tiles/slabs with frost-resistant features.
Such an external appearance and amazing overview are hardly brought by any other stones. It will enhance the design and sustainable structure of the patio, driveway, or paths.
This sandstone could be resized or chiselled into a carved or smooth surface. It is also preferable for interior flooring and roofing applications.
It is featured pillars, beams, doors, arches, windowsills, fence posts, wall facings, millstone, etc. Moreover, its chemical-resistant features make the structure durable for thermal stability as well. Especially in laboratories, chemical production, or housing near seashore applications, we choose the Raj Green Sandstone as the first choice as wall facing and flooring material.
We already know about its acid and alkali-resistant evidence. Apart from these points, we are vastly preferring in much aesthetic & architectural real estate projects due to their beauty, strength, and durability. The paving slabs are hand-dressed and create such a hard-wearing for ideal framing of driveways, pathways, etc.
The Raj Green Sandstone Suppliers make the perfect materials for contemporary designs and traditional use. Such a transitional use from home to commercial space journey is quite enthusiastic.
Specifications:
These sandstones are available in random slabs with sandblasted, natural, brushed, and honed finishes. It is available in terms of slabs, blocks, and tiles from most exporters. Custom-sized materials are only available as per the project requirement while in common cases we prefer pre-cut slabs.
It has a broad range of recommended designs for both interior & exterior works. Tailor-made specifications are also possible as per the recent trends.
You can also search or look for further technical specifications before jumping into the construction process.
If you browse more in the nearby markets or online stores, you will get to adapt more ideas about the premium sandstones' projects. It includes Red Dholpur Sandstone, Pink Dholpur, Chocolate Sandstone, Yellow Lalitpur Sandstone, Grey Lalitpur Sandstone, Teakwood, Rainbow Sandstone, Black Sagar Sandstone, Yellow Mint, Pink Mint Sandstone, Fossil Mint, Desert Sand,Grey Kandla Sandstone, Brown Autumn Sandstone, etc.
Please reach out to the Raj Green Sandstone Suppliersfor quality packaging and on-time delivery. Always keep the better-quality sandstones for a better finish and lifetime security in your construction projects.
Check for the measures for maintenance and support. The general instruction and manual should be thoroughly followed to eliminate the risk of damage during installation and after installation make sure you are following up with the product disclaimer.
Associate yourself with Sandstones India to keep more order and better project work.